BRGM and the gold bar of Al Hajar
Following the discovery of gold-bearing rock in southern Arabia, and tests confirming that the gold could be extracted, leaching tests were conducted at the Orléans scientific centre. It took several days of work before the first gold bar could be cast. Jerome Caia* recounts this unique moment for the Saudi people.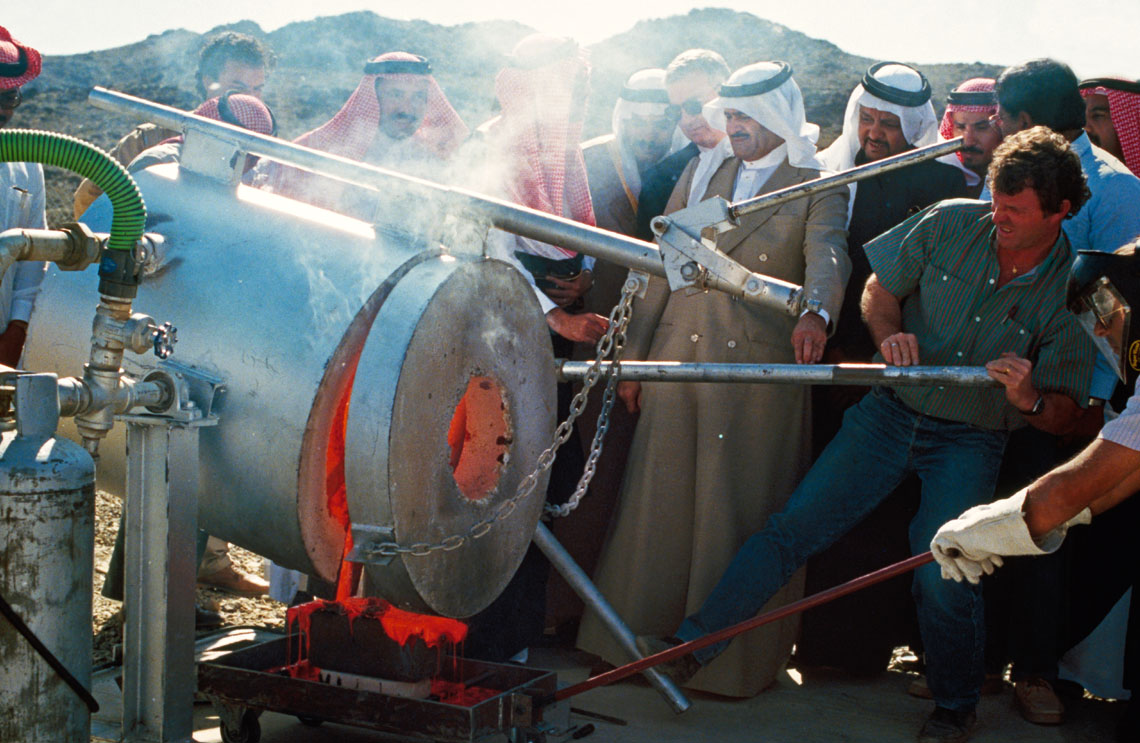 Casting of the first gold ingot in Al Hajar, Saudi Arabia, 1988.
"The discovery in Al Hajar in September 1987 of gold-bearing rock with economic potential was the result of a survey undertaken by BRGM in the volcano-sedimentary sequences of southern Arabia at the end of 1986. In May 1988, field work and laboratory cyanidation tests revealed that the deposit had economic potential, since 90% of the gold could be recovered with this process.  So far so good but the gold still had to be extracted.
At the end of June 1988, a heap leaching test was carried out on site on 1,000 t of ore at the request of officials from the Saudi Arabian Deputy Ministry for Mineral Resources (DMMR); the operation was called Demotest. In addition to demonstrating the feasibility, the intention was to install a modest scientifically managed and controlled heap leaching unit to develop the future processing method that would be applied to confirm the potential. With the agreement of the general manager Maurice Allègre, the project was immediately undertaken with the help of a mining engineer and a metallurgist, both from Orléans. The mining, transport, crushing, agglomeration and heap construction were carried out in 6 weeks, from 14 September to 30 October, 1988. 
On 13 December, 1988, after 45 days of leaching, the first doré bar containing 75% gold and 25% silver and weighing 8 kg was successfully cast in front of a small group of seconded French personnel and Saudi technicians from DMMR. The next day, on 14 December, the bar was cast again at an official ceremony for Isham Nazer, Ibrahim Khaberi, the new director general Claude Mandil and a whole group of Saudi officials. The scene, broadcast on television, reflected the huge enthusiasm and deep emotion felt by the Saudis. It was the first time since the Abbasid dynasty that significant quantities of gold had been extracted from the holy and sacred land of Islam and cast in the country. That same evening, the bar was handed over to King Fahd."
*Jérôme Caia is a former geologist at BRGM. He has been a regular field mission leader in Jeddah and Muscat, among other places.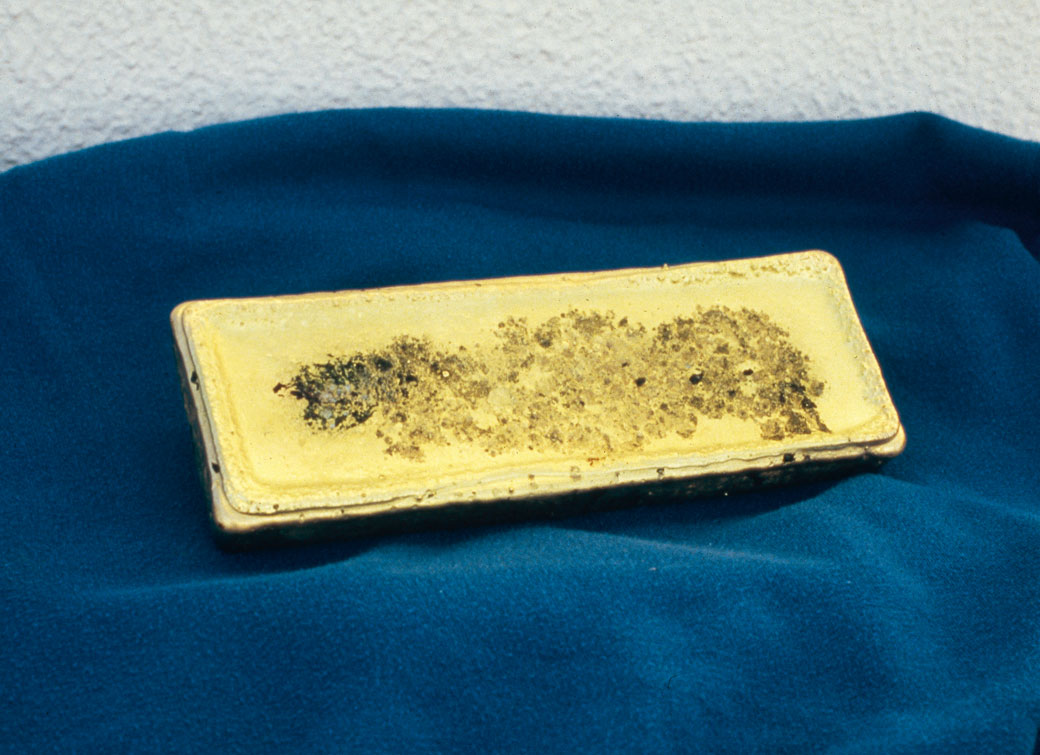 First gold ingot from the Al Hajar deposit.
© BRGM
Back to the chapter